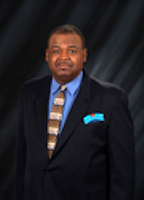 Russell Thomas is 51, single and a graduate of Springfield College (M.Ed.) originally from the Hudson Valley, located in scenic upstate New York (New Paltz H.S. graduate). He presently serves as a Supervisor for the Milwaukee Public Schools (MPS) –Sports and Athletics Division, a merged operation with a portfolio that includes the daily supervision of all adult municipal recreation sport programs and providing operational and management supervision of the interscholastic athletic programs; middle-level and high school programs comprised of 20+ high schools with an overall enrollment of 78,000+ students and the largest WIAA member. Russ has formerly held administrative positions in athletics and student affairs at the world-renowned Culinary Institute of America, Springfield College, Onondaga Community College and the Atlantic – 10 intercollegiate conference. Additionally, he has served on the staff in a variety of administrative positions for numerous years at Camp Victory Lake.
Russ also holds membership and affiliation with numerous professional and community service organizations – including Chairman Emeritus of the Southeastern Wisconsin Commissioners Alliance (SECA), past President, Wisconsin Conference Commissioners Association (WCCA), Black Coaches Association (BCA), Coach George Karl's Friends of Hoops – King Holiday Hoopfest Planning Committee, Honorary Chair. – Fellowship Open, Greater Milwaukee Special Olympics Advisory Council, Police Athletic League (PAL), Neighborhood Children's Sports League (NCSL), advisor/consultant to the Greater Milwaukee NBA "Hoop it Up" event, served on the 2008 McDonald's All-American High School Basketball Game's steering committee, and Director of 2009 Converse/Eastbay Milwaukee Basketball Classic. General Manager– 2010 U.S. Youth Games – Milwaukee, and the Fresh Coast Basketball Classic.
Mr. Thomas has also been a featured speaker and noted facilitator at many coaches and officials camps, clinics and sport management symposiums around the Midwest and United States.