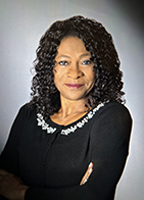 Rhonda Blanford-Green – Executive Director, Nebraska School Activities Association
Rhonda Blanford-Green was named the eighth executive director of the Nebraska School Activities Association in February of 2012 and is currently finishing her third year. She served 22 years as an educator, coach in Aurora Public Schools with 16 as an administrator at the Colorado High School Activities Association (CHSAA). She served two years as the associate commissioner before coming back to the Cornhusker state. Rhonda has served on several national committees including the chairperson for the National Federation of High School Associations (NFHS) Citizenship and Equity Committee. She is a Board member for USA Cheer and Dance, Special Olympics Nebraska (ENL) and serves on the National High School Safety Advisory Committee. She is a state, regional, and national speaker with advocacy in the areas of education-based activities, goal setting, Title IX, increasing student participation, leadership, equity, and inclusion.
The Aurora, Colo., native ran track for the University of Nebraska. She was an undefeated "Conference" champion in the indoor and outdoor hurdles with a total of 18 conference titles. She is an 11-time All-American. Rhonda is a former world record holder in the Shuttle Hurdles. Following her collegiate career, Blanford-Green was a member and team captain of several U.S. Track & Field teams that competed internationally. She has been recognized in the University of Nebraska's Top 25 Women in Sport and inducted into the Sportswoman of Colorado, the Colorado High School Hall of Fame, as well the Nebraska Black Sports Hall of Fame.
Blanford-Green was the first African-American female to be named to the Executive Director position in the nation.
"When you have faith, passion, vision and an open heart to serve, you have no choice, You become a difference maker!" RBG