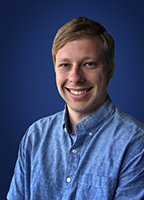 Paul Mauer, Safe Sport Zone's Web Developer and Presentation Designer, is attending the University of Wisconsin Platteville to pursue a degree in Software Engineering. He has first-hand experience with after school events as a former high school athlete, and a passion for helping other students, staff, and spectators attain a safer environment for school-related activities.
Paul met Jay Hammes while attending William Horlick High School in Racine, Wisconsin, where Paul began working on Power Point presentations. Not long after, he began development on safesportzone.com and is constantly working to improve it.
Along with web development and presentation design, Paul also has experience with media design including graphics, music, and video production.