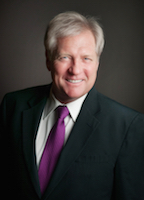 Jay Hammes
---
President of
Safe Sport Zone LLC

Jay has been involved in athletics his entire life as a player, a coach, teacher and recently retired athletic administrator, both at the high school, district level and collegiate level. In November 2013, he was voted Wisconsin's "Athletic Director of the Year." In June of 2015, Jay was inducted into the Washington Park High School Hall of Fame in his hometown, Racine, Wisconsin.

Jay's passion for high school athletics has him currently speaking throughout the country on maintaining a safer environment for after-school events.

He is currently working with the National Interscholastic Athletic Administrators Association and is the chair and lead instructor of the leadership training course called "Contest Management," which covers athletic event security.

He has been published numerous times and endorsed by both the NIAAA and NFHS. In July of 2013, Safe Sport Zone was nationally recognized at Disney World by the NCS4.

Jay graduated from the University of Wisconsin-Oshkosh and achieved his master's degree from the United States Sports Academy.

He was an elected Board Trustee in the Village of Wind Point for 12 years, whose responsibility was the Village's Police, Fire, and Safety.

SAFE SPORT ZONE

Nearly all school districts have security measures in place during school days. However, similar risk management policies are too often overlooked or ignored for evening events. Safe Sport Zone has developed plans to assure safer environments for activities occurring at times other than during the regular school hours.

Safe Sport Zone has developed a staffing model for athletic administrators to adopt as a best practice. Spectator issues, identifying all fans, athletic concerns, facilities maintenance, evacuation procedures, and applications for almost any emergency are all part of the exercises.

For interscholastic athletics to survive, the games kids play have to be enjoyable, entertaining, safe, and educationally driven. Safe Sport Zone is committed to these principles.