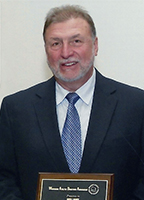 After graduating from Carthage College in 1977, Greg Lampe began his teaching career at Oak Creek High and during that time has worked as a teacher, coach and athletic director for the past thirty six years until his retirement in January of 2014.
Greg began as a special education teacher where he started the behavioral disabilities program, and a year later moved into teaching physical education and health holding that position until 2005 when he took over as athletic/activities director. During his career at Oak Creek High School he was highly active in many sports for 25 years where he served as head and assistant coach. This included head football, baseball and softball and Worked as an assistant in basketball, track, and swim. His latest coaching position was in softball where he started the schools program in 1987 and was head coach for 17 years. During which he won 9 conference, 7 regional and 6 sectional titles and made 6 consecutive trips to the state tournament and being named twice as the Milwaukee Journal/Sentinel coach of the year. In 2010 Greg was inducted into the State Softball Coaches Associations Hall of Fame. He was also very instrumental in establishing the youth baseball and softball programs with the Oak Creek Parks and Recreation Department.
As the schools athletic director, he created a very positive and fair environment for the school, student/athletes and coaching staff and made sure each one was given the chance to perform and excel at their best. Greg was very instrumental in designing and overseeing many facility upgrades and projects while at Oak Creek. They included the installation of the new softball and soccer complex at East Middle School as well as the community stadium project which included a new concessions area, ticket booths, track, lights, bleachers and playing turf. He also helped design the new gym floor and championship banners and was very instrumental in getting the pool renovated. He and his family have been life time residents of the community and he has served on the City Parks and Recreation Board and School District building and grounds.
Greg was also a very active member in WADA where he has presided at the state conference and served as an athletic mentor to several new AD's. He has taken over 12 LTI classes and holds his CAA certification as Well as having attended several NIAAA national conferences. Greg was a member of the WIAA Sportsmanship Committee and served as a presenter at its sportsmanship summits and also works several WIAA State Tournaments that include softball, swim, and baseball. As a member of the Southeast Conference he served as it's liaison to the WIAA and is currently a member of the State Softball Coaches Association Board of Directors. In 2014 Greg was named the Wisconsin District 7 Athletic Director of the Year.